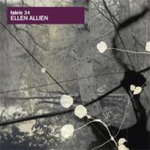 international news _ 8th March, 2007
Ellen Allienís Fabric Design
Text by Nick Lawrence (HigherFrequency)
Ellen Allien, the artist who HigherFrequency previously reported branched out into the world of fashion design, is now back at the decks and this time for "Fabric 34".

The BPitch Control boss adds to her compilation accolades, such as her label's recent "Camping 3", with 15 tracks mixed together in the name of the famous Farringdon club.

Music on the disc comes from many of Ellen's friends including her "Orchestra Of Bubbles" compatriot Apparat as well as Radiohead's Thom Yorke, who Allien recently administered the remix treatment to.

"Fabric 34" will be released on May 14.


News : Fabric 33 Goes To...Ralph Lawson (06/02/2007)
News : Extra Terrestrial Camping Trip(28/01/2007)
News : Ellen Allien Frocks Up (02/08/2006)