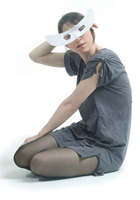 international news _ 2nd August, 2006
Ellen Allien Frocks Up
Text by Nick Lawrence (HigherFrequency)
Obviously not satisfied with her life as a DJ, producer and label manager of BPitch Control, Ellen Allien has decided to enter the world of fashion. The West Berlin born DJ has teamed up with Markus Stitch who in the past has worked with Dior. The two artists have combined their powers to come up with a summer collection that is apparently designed to playfully accentuate femaleness and is based on the types of clothes Allien would herself wear. And there is a strict warning that "Ironing is forbidden!" which is sure to please all those who are weary from housework.

This isn't the first collaboration of Ellen's, just last month she teamed up with Matthew Dear under his nickname Audion to release a double single 'Just A Man/ Just A Woman' that was brought out on Spectral Sound. On top of that Allien early this year brought out a new album, "Orchestra Of Bubbles", which she produced alongside Shitkatapult label boss Apparat and released on her own label.

The summer collection of the Ellen Allien fashion line is out now in two shops located in Berlin and also through the online shop. Reportedly a few more select outlets will also carry the upcoming fall/winter collection including possible shops in Milan, New York, Japan, Paris, London and L.A.
Party Report : HigherFrequency + UNIT presents Bpitch Control Night @ Unit, TOKYO (04/05/2006)
Interview : Ellen Allien Video Interview (12/07/2005)
Party Report : Wire 05 @ Yokohama Arena (16/07/2005)
Ellen Allien Fashion Official Site
Ellen Allien Official Site
BPitch Control Official Site