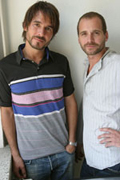 international news _ 18th July, 2006
Tiefschwarz Thank Electroclash's Fashionistas
Text by Jonty Skrufff (Skrufff.com)
German electro uber-producers Tiefschwarz chatted to Skrufff this week about their upcoming compilation CD for Fabric and revealed that they were massive supporters of electroclash and all its associated elements.
"Electroclash was a very important movement because it broke down some boundaries. It was something fresh that appeared from behind, no-one expected it to become so strong, it was like a hurricane and it helped to get rid of all this high end shit; all this superstar DJ behaviour," they said.
"The combination of rock and electro along with this naughty dirty trashy element was so important for music in general. It was so refreshing and it made music sexy again. It brought girls back onto the dance-floor and it was not so stereotyped as before, it was very close to fashion, it was perfect- electroclash was a very creative moment in music. We're super-happy that it happened."
The Berlin duo's unqualified support could spark a reappraisal of the much maligned genre, which polarised clubland in 2002 and led many of its leading lights including Felix Da Housecat, Dave Clarke and DJ Hell to distance themselves from it as the surrounding fuss grew.
"We never called our music electroclash, it was people from New York who called it that; electroclash is electro combined with pop music and we don't feature it much on Gigolo," Hell told Skrufff in 2003, "It was hyped in the wrong direction and I don't feel a part of the electroclash movement at all."
Dave Clarke also admitted he had more than few regrets after becoming the first DJ to champion Fischerspooner's Emerge around the same time.
"I was playing Emerge before anyone else picked up on it and I was getting emails at the time from Fischerspooner and their singer as they were really excited," said Dave last year.
"Then two years later, by accident, I saw their 'performance' on Top Of The Pops and immediately thought 'Thank F++k I didn't get involved after all'. With their Flock Of Seagulls gets dumped by art school kind of vibe, they were responsible for killing electroclash in one foul swoop- plus they had the biggest egos I had ever come across," he laughed.
News : Tiefschwarz's Family Fortunes (30/06/2006)
News : Fabric Turns Deep Black (23/06/2006)
News : Tiefschwarz's Bargain Berlin Breaks (20/06/2006)
Interview : Tiefschwarz (07/10/2005)