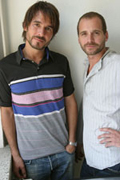 international news _ 30th June, 2006
Tiefschwarz's Family Fortunes
Text by Jonty Skrufff (Skrufff.com)
German electro stars Tiefschwarz unveiled details of their upcoming mix CD for Fabric this week and revealed their main inspiration in their careers has been their recently deceased father.

"Our father died last year and that's still very sad. He was such a big influence and the most important person to us. He would often come touring with us and when we did really big parties, he'd be at the door hosting people. It's really sad, we miss him terribly," said Ali,

"But the same with my mother, when she comes out on tour with us she's always on the dancefloor or opening the dancefloor. It's so sweet. She's amazing."

The nowadays Berlin based duo have become the best known producers and remixers of the post-electroclash electro-house scene in the last few years, enthusiastically touring the world off the back of their success.

"We always come into a city where we're invited, where we're a guest. I created this term 'inner-circle tourism'," Ali continued.

"You're not coming as a tourist, you don't have to grab a book and read about the nice hotels, restaurants and museums...you come and people take you inside the scene, and that's something you never discover as a normal tourist. We have the chance to see the whole world through a different perspective. It's kind of a social study as well. I really love travelling so for me it's double the pleasure,"

Fabric 29: Tiefschwarz is out on July 17.
News : Fabric Turns Deep Black (23/06/2006)
News : Tiefschwarz's Bargain Berlin Breaks (20/06/2006)
Interview : Tiefschwarz (07/10/2005)