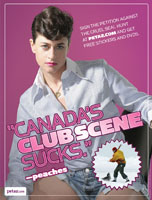 international news _ 5th September, 2006
Peaches' Unlikely Electroclash Rival
Text by Jonty Skrufff (Skrufff.com)
Bob Geldof's daughter Peaches is scaling back her DJing duties to front an upcoming Hoxton electro band called Cosmetique, the Sun reported this week, posing interesting possibilities for mix-ups with her notoriously raunchy, outspoken namesake Peaches.

The 17 year old wannabe recently attracted tabloid scorn for claiming she earned more than £250,000 on her Myspace page (the Inland Revenue are apparently investigating) while the Sun dismissed her last week as a second rate Paris Hilton, after she partied hard at Balearic superclubs Amnesia and Manumission.

"She's clearly hungry for attention," a witness told the tabloid, ""Anyone in Ibiza over the weekend seems to have seen her at some point, She's hardly been to bed."

Original electro star Peaches, meanwhile, popped up in the news for altogether more serious reasons this week, by lending her support for an animal rights campaign protesting against Canada's method of clubbing and skinning baby harp seals for their fur.

The Berlin based Canadian electro diva appears on an advert for PETA2 under the strap-line 'Canada's 'Club' Scene Sucks', next to an image of a hunter about to club a seal, though remains best known for promoting alternative sexuality. Performing in London two years ago at an NME gig for indie rockers the Distillers, she provoked squeals of delight when the girls on her video projection screen began shaking strap-on dildos, causing her some surprise, she told Skrufff at the time.

"I find it odd that people find the dildos so shocking," Peaches admitted.

"The general audience reactions are always great when it's my show but if I am the opener then people have really strong extreme reactions right away," she mused.
Release : Peaches / Impeach My Bush (21/06/2006)
News : Peaches Impeaches George W (10/04/2006)