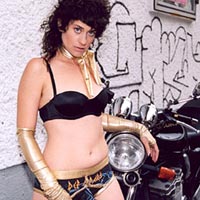 international news _ 10th April, 2006
Peaches Impeaches George W
Text by Jonty Skrufff (Skrufff.com)
Punk-electro-rap diva Peaches has titled her next album "Impeach My Bush", her label XL revealed this week, continuing the sexually charged theme she expressed on her 2004 long player "Fatherf++ker".

The new album features collaborations with Joan Jett, Feist, Josh Homme and Beth Ditto and includes a track encouraging men to have sex together in threesome situations (called 'Two Guys (For Every Girl)') a concept she first discussed in NME several years ago.

"Every woman I know has kissed a woman, but not every guy I know has kissed a guy, and it's totally ridiculous because people are used to seeing women kiss women and being sexualised," said Peaches,

"When men have kissed men and we're all equal, then we can talk about all that shit" (men having anal sex).

Chatting to Skrufff around the same time the Berlin based Canadian was equally explicit about her rational for calling her album "Fatherf++ker", pointing out at that motherf++ker' has become so widely used, it's power to offend has largely dissipated.

"Fatherf++ker rolls off my tongue, because I'm not a Motherf++ker, I'm a fatherf++ker," she explained.

"And in relation to calling my album "Father++ker", I went to a meeting with my label XL and they were like 'Peaches, you can't call you album Fatherf++ker, we can't sell it at Walmart' and I was like 'Yeah, I don't want my record in Walmart'."

"Impeach My Bush" comes out on July 12 on XL Records.