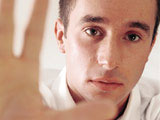 international news _ 15th March, 2007
Eddie Halliwell Injured In Fall
Text by Jonty Skrufff (Skrufff.com)
Radio 1 DJ Eddie Halliwell is reportedly recovering from ligament damage this weekend, after the hyper-active spinner twisted his ankle at a gig in Liverpool.

Wigan Today said the hard house/ trance star was rushed to hospital following the incident which took place towards the end of his set at Nation (best known as the erstwhile home of Cream),

"Eddie's really down in the dumps. He loves to jump up and down in his DJ booth, and sometimes crowd-surf, but this time he landed on a ledge and did his ankle in," his manager (and brother) Simon Haliwell told Wigan Today, "He's in a lot of pain."

The 26 year old DJ has long been renowned as one of the most flamboyant DJs in terms of performing behind decks, and has regularly staged dived into the crowd at gigs in Ireland, Ibiza and the UK. Whether he calms down in the future remains to be seen though fellow UK jock Tim Deluxe told Skrufff he did, after smashing his face open on stage in Middlesbrough three years ago, when a drunken prank with a bicycle went wrong.

"You wake up and you realize itís not good, you canít be DJing or recording if you are smashing yourself up," Tim, who was 27 at the time, told Skrufff.

"I still like to have a laugh but I think Iíve changed slightly. Thereís been a feeling of thereís only so much of that you can do. Itís about evolving, moving on. You go through stages in your life, with music, with how you behave, how you dress, how you look, how long your hair is. Thatís what itís about in the long run," he mused.

"It would be so boring if every day you got up and got smashed and did stupid things. Though youíve got to go through the phases I think."


News :Radio 1 Return To Miami(06/03/2007)
News :Judge Jules Passes Judgement(03/04/2006)
News :Radio 1 Announces New Dance Music Show - The Residency(07/04/2005)