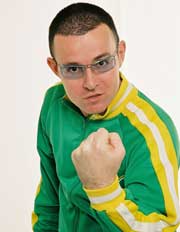 international news _ 3rd April, 2006
Judge Jules Passes Judgement
Text by Jonty Skrufff (Skrufff.com)
A list of breaks DJs including Stanton Warriors, Krafty Kuts and Plump DJs will be joining the likes of Christopher Lawrence and Eddie Halliwell at Judge Jules' latest season of Ibiza parties Judgement Sunday, which runs for 15 weeks from June 11.

Jules said he sees little reason to change his tried and tested breaks/ trance/ hard/ house musical mix and confirmed Mixmag's assertion in their 'minimalist is the next big thing' feature in the latest issue that 'Judge Jules definitely isn't into it'.

"It's barely entered the radar screen at places I play either at home or abroad, so I can't comment on the genre, but considering I play over 175 gigs per year in roughly 30 countries my assumption is that this media attention is very insular and London-centric," Jules told Skrufff, "That wouldn't be new."

The Radio 1 star also brushed off a letter in Mixmag criticising his massively popular protege Eddie Halliwell for playing increasingly similar and repetitive tunes on the magazine cover CDs, and said he's never got bored of his own arguably similar style.

"Good new tunes don't come in equal weekly batches and some weeks there's nothing to excite you, then on others there's so much you could barely fit them all into an entirely new set," said Jules.

"My sound isn't purely trance anyway; variety counts for everything on the dance floor," he added, "Dance music is such a broad church that even genres such as trance can be broken down into sub areas. My field is the more groovy percussive end, and my excitement in these sort of tracks has never waned."

Judgement Sunday opens at Eden (San Antonio) on June 11 headlined by Jules (playing a trance and breaks set), Eddie Halliwell, and room 2 residents The Trophy Twins.