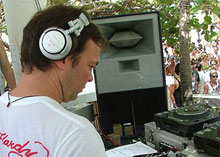 international news _ 6th March, 2007
Radio 1 Return To Miami
Text by Jonty Skrufff (Skrufff.com)
Britain's Radio 1 have announced they'll be broadcasting a number of events from this year's Miami Winter Music Conference (WMC) at the end of the month including two special broadcasts from station mainstay Pete Tong.

"It will be great to be back at Miami WMC this year, it's still such an important date on the calendar for the dance and electronic music business", said Pete.

The Radio 1 tastemaker also dismissed recent claims in the media that the conference is losing its relevance for many in Europe, telling Skrufff "if we are really honest itís been a bit of a fallacy that there has ever been a hoard of UK punters regularly trekking to Miami for the WMC, the crowd has always been dominated by American punters".

"What I mean is not as many UK industry people are going," he continued, "And there are not as many industry people going as there used to be because in reality there are not many record companies left. And perhaps it's not as important for the indies to attend as it is for the majors. For me itís still very relevant because there are loads of DJs attending and amazing parties taking place. Hopefully we'll get more UK people over this year once we announce our Radio 1 plans".

Admitting that the event is becoming expensive "I donít run a record label but I suspect it would be costly to ship over all of the DJs and staff for a big party at the National every year" he nevertheless disputed its overall cost.

"In terms of people holidaying you wouldn't get many places cheaper than America if you are carrying the pound note because the dollar has collapsed. There haven't been as good holiday deals to America since the 1980s", he said.

He also downplayed repeated reports of violent bouncers terrorising delegates in recent years, admitting "there is no question it can be full on because everyoneís got a VIP pass and maybe the club has given too many out so it can all get a bit hectic and intense", said Pete, "But to be honest I've seen that all over America not just in Miami", he added.

Pete Tong broadcasts an extended Essential Selection from the Surfcomber Hotel, South Beach, 7-10pm, March 23, then on Thursday March 29 a special Miami themed edition of his new show In New Music We Trust.


News : Holden, Howells and Hawtin Get Made In Miami(07/02/2007)
Party Report : Miami Winter Music Conference (03/2006)