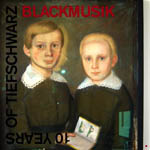 international news _ 13th March, 2007
Tiefschwarz's Ten Together
Text by Nick Lawrence (HigherFrequency)
The Schwarz brothers are celebrating ten successful years as producers & DJs by putting together a new two disc compilation and also heading around the world on a two part anniversary tour.

"Black Musik" is a double CD compilation set to be released on Tiefschwarz's recently formed Souvenir record label. The first disc promises to bring together many of the brothers' influences from over the years including Ron Trent's 'Altered States' as well as more recent music from DJ Koze and Ewan Pearson.

The second disc is a collection of some of Ali & Basti's own productions, inclusive of the remix treatment from some of their friends like Radioslave and Crosstown Rebels' Kiki & Silversurfer.

"Black Musik" will be released in late May while the "Black Musik" world tour will start this month and take in locations in Japan, the US, Russia and many more.


Tracklisting
Disc One
01. Sebastian Tellier / Black Douleur
02. James Figurine / Apologies (DJ Koze Remix)
03. Pawel / Ceramics
04. Tuff Little Unit / Join Your Future
05. Osvaldo / Stella Called
06. Courtney Tidwell / Stars EP" (Ewan Pearson mix)
07. Marianne Faithfull / Broken English
08. Mia / Tanz Der Molekule (My My original mix)
09. Bullshit remixes (Ziggy Kinder mix)
10. Groove Box / Casios Theme (MAW Flave mix)
11. Ralphi Rosario / Una Cosa De Amour
12. Broke / Over That
13. Donnach Costello / 6.6
14. Brooks / Tell Somebody About The Beat
15. Recloose / Can I Take It (Carl Craig remix)
16. Ron Trent / Altered States (Light City By Terrace)
17. Francesco Catalano / String Of Life
18. Flash And The Pan / Walking In The Rain

Disc One
01. Tiefschwarz / Troubled Man
02. Tiefschwarz / Troubled Man (Ruede Hagelstein Remix)
03. Tiefschwarz / Ghostrack
04. Tiefschwarz / Ghostrack (Shonky remix)
05. Tiefschwarz / Original
06. Tiefschwarz / Original (Samim's robidog remix)
07. Tiefschwarz / No More Trouble
08. Tiefschwarz / No more trouble (Turntablerocker remix)
09. Tiefschwarz / On Up
10. Tiefschwarz / On up (Kiki & Silversurfer remix)
11. Tiefschwarz / Blow
12. Tiefschwarz / Blow (Radio Slave Remix)

News : Tiefschwarz's Souvenir Seeks 'Fresh, Confident, Crazy Music' (18/10/2006)
News : Tiefschwarz Thank Electroclash's Fashionistas (18/07/2006)
Interview : Tiefschwarz (07/10/2005)