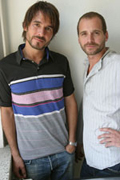 international news _ 18th October, 2006
Tiefschwarz's Souvenir Seeks 'Fresh, Confident, Crazy Music'
Text by Jonty Skrufff (Skrufff.com)
Tiefschwarz brothers Ali and Basti chatted to Skrufff this week about their new independent label Souvenir and revealed they're hoping to sign music they'd play in their DJ sets.

"We re looking for fresh and confident music; any kind of (dance)music that inspires us that we'd love to play as DJs," they said. "Try to be yourselves and be creative, crazy and unique as hell," they advised.

The hugely successful German duo are launching the label with their own new minimal-ish new Hey Master (released under their alter ego of Ichundu) followed by tracks from Phonique and Riton though plan to grow organically, they stressed.

"We always operate with a "step by step' approach so, for us it's important to get started then after a few releases we'll see where the journey goes. We know that its not easy to establish a label these days but we re quite confident and not in a rush," they insisted.

"We know that we didn't reinvent the wheel when we came up with the idea to start Souvenir but it just makes perfect sense for us to create a third part to have this triangle – DJ work, production and remixes and the label," Ali added.

"After all these years it was the right moment to built this platform to use all our contacts and our network. It just feels good to have a solid base and you stand better on three feet than on two. We actually see the label as a playground for our self, for friends and new talents."

Frenchman Arthur Velasquez is also involved in the project.
Interview : Tiefschwarz Interview In Tokyo (07/10/2005)