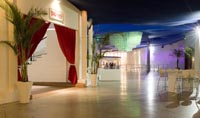 international news _ 12th March, 2007
Pacha Brazil Boss Rocks Rio Beach Bums
Text by Jonty Skrufff (Skrufff.com)
Leo Sanchez from Pacha's newest club chatted to Skrufff this week about the recent launch of their 8,000 capacity mega-venue in Sao Paulo and revealed that he considers Brazil's capital to be vastly more fashionable than rival megalopolis Rio de Janeiro.

"People in Sao Paulo are far more cosmopolitan and enjoy a life that's more fashion related", the Brazilian club chief claimed, "People from Rio de Janeiro spend their time on the beach, wearing Hawaiian sandals and shorts".

Rio/ London socialite and celebrity stylist Neandro surprisingly agreed, telling Skrufff "Rio people are more into sexy daytime beach parties whereas in Sao Paulo they're urban night people, more like Londoners".

"All Brazilians are crazy", Neandro added, "But Paulistas are more sophisticated".

Rio promoter Eduardo from underground institution Dama de Ferro also partially agreed, pointing out "sure, we have a beach which we go to whenever we like, and we wear sandals, shorts, suits and ties – actually, whatever we feel like wearing and being comfortable with. And if there's a party and we've been at the beach a couple of hours ago and we haven't had time to go home and change, that's fine, because we're more about the party here than about how we look", he said.

"People in Rio are less uptight, less self-conscious, more in tune with the party as a whole as opposed to what they look like and represent at the event", he continued, "Of course, I am referring to a small club atmosphere, a more underground feel and lifestyle, though personally, I believe people in Sao Paulo tend to take themselves too seriously and forget to have fun".

"Anyway, there is a little nonsense rivalry between Rio and Sao Paulo, but nothing aggressive, and definitely nothing serious", Eduardo laughed, "We are all Brazilian, and we are all sexy, open-minded and party crazy".

Pacha's new owners also run Brazil's previously best known super-club Sirena, which has operated out of beach resort Maresias for 13 years, though Leo said the Pacha link-up was necessary due to Brazilian people's respect for international brands.

"Most South Americans have very consumerist visions and think that everything international is better", Leo explained. "Pacha is the best known clubbing brand in the world, and by hooking up with them we're mimimising the risks while aggregating the benefits of our experiences at Sirena".

The new club can cater to up to 8,000 people with facilities to stage events for much smaller crowds when appropriate and will be staying open until 9am on Saturday mornings and 11am on Sundays, he said. With few tourists passing through Sao Paulo, international visitors will be predominantly drawn from the city's sizeable ex-pat communities, though Leo said those tempted to fly in should never be deterred by Brazil's high crime reputation.

"Sao Paulo is a city like anywhere else, in that if you go to good areas and take care, it's never dangerous", he said, "For our artists and DJs, we have a specialized system of looking after them that in 13 years of operating everything has always happened normally".


News : Pacha Pushes Past One(01/12/2006)
News : Pacha Takes Hamburg's Cherry(01/03/2006)