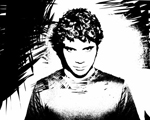 international news _ 12th March, 2007
Asa Breed Turns Dear
Text by Len Iima (HigherFrequency)
From Texas native and Minimal Techno head Matthew Dear comes his second full length album. If the name doesn't ring a bell (some may say you were living under a rock) perhaps you've heard of Audion, False, or Jabberjaw. All of these monikers have been used for his wide variety of productions, remixes, etc.

The upcoming album will feature more vocals and instrumentation leaning towards a progressive pop sound rather than floor stomping Detroit Techno. The first single 'Deserter' sticks with the avant pop theme and also comes with a remix by Four tet. The album title comes from a character in the 1963 science fiction novel Cat's Cradle, perhaps an influential book on Matthew Dear.

"Asa Breed" will be released in June.


News : America Invades Ibiza (28/07/2006)
News : Minimal Star Finds Minimal 'Not Boring, But . . .' (20/02/2006)
Party Report : FABRIC @ FABRIC, LONDON (14/05/2005)
Ghostly International Official Site