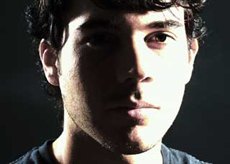 international news _ 20th February, 2006
Minimal Star Finds Minimal 'Not Boring, But . . .'
Text by Jonty Skrufff (Skrufff.com)
Matthew Dear unveiled details of his upcoming Fabric compilation this week and revealed that he's releasing it under his Audion persona to distance himself from the minimal tag.
"I was just getting a little . . . I wouldn't say bored with subtle, minimal stuff, but I realised if you added hard and powerful moments people could lose themselves a lot easier," Matthew explained, "Audion came out of a need I was finding in live shows to play harder and more aggressive music."
The hotly tipped Texan's consciously eclectic approach matched that of Secretsundaze chief James Priestley who despite releasing two minimalist remixes under his production duo guise of Barlz e Syntho recently, said he's also increasingly ambiguous about the much-hyped genre.
"Miminal is quite an abstract musical form and though I personally I find it really exciting and I am really in to it, as a DJ I need music with catchy little melodies and things that people can hook on. Otherwise you need to be really focused on that sound to make it work," James told Skrufff. "I never play just one style of music, I'll mix minimal with heavy guitary disco or shit like that."
James also said changing drug fashions could have influenced minimal's recent high profile, suggesting 'a lot of it has gone hand in hand with the rise of people doing ketamine; I think that's been quite a big factor in its increasing popularity.'
Border Community chief James Holden, who's also been dabbling in the genre in recent times, broadly agreed, though like both DJs stressed he's keen to avoid being pigeon-holed.
"Around a year ago there was some really exciting minimal music out there, that, OK, you had to be on ketamine to enjoy it, but I certainly enjoyed playing it, definitely, and for a little while I was beginning to get a bit purist," James told Skrufff.
"But then at some I realised I was bored of it and wanted to play all kinds of music again, which is where I'm at now," he added.
James Holden's upcoming compilation "James Holden At The Controls" is out shortly on Resist Records, as is Matthew Dear's 'FABRIC 27: MATTHEW DEAR as AUDION' on Fabric Records.