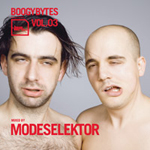 international news _ 9th March, 2007
Boogy A La Modeselektor
Text by Len Iima (HigherFrequency)
The first official DJ mix from Berlin based avant garde duo Modeselektor is about to be released. Gernot Bronsert and Sebastian Szary, the masterminds behind Modeselektor do it all, from producing, remixing and even creating their own synthesizer which they use in their live performances as well as in the studio.

This mix CD off the BPitch Control label contains a plethora of artists ranging from Mr. Oizo, u-ziq, Carl Craig, and Radiohead. Thom Yorke, lead man of Radiohead, is a big fan of the two and has recommended their music in interviews. They have recently remixed one of Thom Yorke's tracks probably as per his request.

Modeselektor is currently working on their second full length original album which is due out this fall.

"Boogy Bytes Vol. 3" will be released on April 23rd.

News : A Holiday For Klubber's(09/02/2007)
News : Extra Terrestrial Camping Trip(28/01/2007)