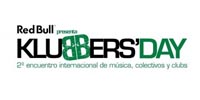 international news _ 9th February, 2007
A Holiday For Klubber's
Text by Len Iima (HigherFrequency)
The second installment of Klubber's Day, a (mainly) DJ/electronic two day festival will be held on April 6th and 7th in Madrid.

The line-up is second to none with major international artists in attendance. Some headliners include Ellen Allien, who will be releasing her (third) label compilation on March 26th, along with fellow BPitch member Modeselektor. As well as Richie Hawtin and James Holden, both of which will be in Miami two weeks earlier for the Winter Music Conference. On a slightly different note, Scratch master Q-bert and Japan's own DJ Krush will also be showing off their stuff.

6 April (Fri)
Richie Hawtin, Ellen Allien, Dave Clarke, Tomas Andersson, Misstress Barbara, Modeselektor, Technasia, Green Velvet, Marco Carola, Starkillers, John Carter, Motor, Yorka & Djc García, Wego, Javier Carballo, Marc Marzenit, Andresandreas, Jaümetic, Citizen Kain, Pablo Bolivar, Pepo Lanzoni, Nhitto, Ralph Montana, Alex Under, Gaiser, Luis Junior, Wagon Cooking, Rainer Truby, Agoria.

7 April (Sat)
James Holden, Autechre, Zombie Nation, Dj Hell, Dj Krush, Q-Bert, B.E.M. Madrid, Andrew Grant, Willie Graff, Muerto, Black Replica, Jimmy Edgar, Egyptian Lover, Miguel Mendoza, Dynarec, David Guetta, Frank Lorber, Pascal Feos, Acción Sánchez, Rapsuskley & Hazhe, Busta Rhymes, Dirty Princess, Woody, The Presets, Play Paul, David Carreta.

News : Holden, Howells and Hawtin Get Made In Miami (07/02/2007)
News : Coachella Valley Music Festival Ready To Set It Off (29/01/2007)