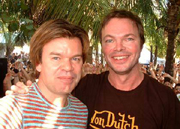 international news _ 4th June, 2007
Pete Tong's Budget Airline Blues
Text by Jonty Skrufff (Skrufff.com)
Pete Tong launched a despairing rant about having to use budget airlines to fly to Ibiza every week, complaining about 'late departures, overcrowding and trips out of Luton airport'.

"And because of who I am, I'm ALWAYS going to get grief from beer-ed up blokes whom I've gotta sit amongst for hours on end," the Radio 1 superstar DJ told One Week To Live, "For me that's quite uncomfortable."

The issue of celebrities' vulnerability was emphasised in Moscow this week when Right Said Fred singer Richard Fairbrass was viciously assaulted in front of scores of journalists as he attended a gay pride protest in the Russian capital. The British performer was left cut and bleeding after the televised assault and said afterwards he'll be recruiting minders for future trips in the region.

"I was just being interviewed by a journalist when this man ran up and punched me in the face. I remember he was holding a crucifix in his other hand. It was so strange. It was terrifying," the British performer told the Sheffield Star, "I felt sorry for the guy that whacked me. How insecure is he to be threatened by a bisexual singer most famous for singing I'm Too Sexy?"

Erstwhile Pete Tong collaborator Steve Mac (best known as one half of house producers the Rhythm Masters) was also brutally assaulted some years ago in Malta after unwittingly annoying the local promoter.

"I got jumped outside a club and got seriously beaten up, which was fairly heavy. I've still got a broken nose from it," Steve told Skrufff soon afterwards.

"I played a couple of extra hours at an after party in the club's VIP area and the owner, who was a bit of a hooligan type character, apparently didn't like that and as soon as I'd finished two of his mates kicked the living shit out of me. I had to get on the plane with two black eyes, a broken nose and cuts everywhere."

"He didnít like the music I'd played there," Steve added, "It was cooler music than he wanted. The club went bankrupt soon after."
News: Radio 1 Return To Miami (06/03/2007)