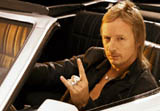 international news _ 26th February, 2007
DJ Hell Damns Private Jet Privileges
Text by Jonty Skrufff (Skrufff.com)
Gigolo Records chief DJ Hell blasted out of touch superstar DJs this week, going on to reveal some of the secret VIP perks, many big name spinners now routinely enjoy.

"There's something called the 'Hon Circle'- it's way more than frequent flyer. It's super high class," Hell told One Week To Live.

"You get a black card and that's the door to the magic. You can choose a Porsche or a Mercedes to pick you up . . you don't have to check in with regular people Richie, Sven, they're in this circle. The new thing in Ibiza is private jets," he added.

Hell also derided (other) unnamed top rank DJs who use selectors to pick their tunes and suggested few of them are really happy.

"I call them monster DJs," he added, "They come with the manager, the bodyguard, the PR . . . you shouldn't be surrounded by your own security and private jet"

Ibiza regular Judge Jules said he'd never heard of the Hon Circle, telling Skrufff 'I think it's a German thing done by Lufthansa; I'm pretty sure it doesn't exist in the UK," a view Pacha chief Danny Whittle also endorsed.

"To be honest, I know nothing about it," said Danny. "And the only Pacha DJ that really uses a private jet is Erick Morillo. However Erick gets a budget for flights for the summer from us and then for all the other gigs he plays during the summer," said Danny. "As you can imagine, that's quite a lot, he then adds it all together which allows him to lease a private jet for the summer."

"I would imagine this is what Sven does as well," Danny continued. "Certainly with the size of some DJ's fees these days, there's no way a nightclub could realistically make a private jet budget work for any particular individual gig," he added.

Hell compadre Dave Clarke told Skrufff he'd encountered similar high flier schemes in the late 90s though stressed 'I never used them, my head is not firmly up my arse'.

"I will fly whatever the easiest way is to get there, indeed if possible I'll take a train," Dave explained, "Though occasionally the promoter wants you so badly that they'll arrange a plane to accommodate your schedule, for example if you're doing three dates in three countries in one day. But to be honest, although that in the past was a blast, it's difficult to give yourself 100% to each gig, so now I won't do that."

"Some DJ's are jealous about these VIP possibilities because they never come their way even though they shout and scream for them," Dave continued, admitting he feels passionate about the topic.

"I've lived that life in some ways, but even though I have an artistic ego, it's not out of control or fuelled by copious amounts of cocaine or hangers-on. I have seen whole troupes of hangers-on surrounding some DJs, all flattering their ego, and getting out of limos together, and then seen the DJ perform a marginally average sets (and I'm being exceptionally polite here). To me, Ibiza has been out of control with ego over the past eight years, with demands for private jets, briefcases of undeclared cash allegedly coming into small regional airports etc and who pays for that? The clubber," he continued.

"Can I look at a clubber in the eye and feel comfortable by flying business class? absolutely yes: would I be able to do that with what Hell is commenting on, absolutely not, where is the integrity? Most of those guys don't even sell many records, they are certainly not U2," he added.

News : The Tenth From Hell(19/01/2007)
News : Dave Clarke's Paranoid Success (18/01/2007)
Interview : DJ Hell Interview in Tokyo (20/07/2004)