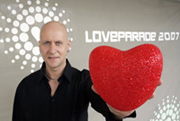 international news _ 26th February, 2007
Berlin Love Parade Dumps Berlin
Text by Jonty Skrufff (Skrufff.com)
Organisers of the Berlin Love Parade announced this week that they're seeking a new location 'in Germany or Europe' to stage an event this summer and blasted local authorities for failing to grant them a permit.

"We have on several occasions attempted to get the City of Berlin to grant us written approval and repeatedly postponed the press conference for this reason. But now time is running out and we cannot wait any longer!" Rainer Schaller, boss of the company behind the event, wrote on his official website.

"Because we nevertheless want to organize a Loveparade for this year, we have taken the decision to seek out a new partner city in Germany or Europe. As of this moment cities interested in hosting the event can get in contact with us."

However, Berlin city spokesperson Petra Roland said it was 'common practice not to issue a written permit till three weeks before the event' (expatica.com) and added that the only outstanding issue had been over the placing of temporary traffic signs.

Reuters pointed out that last year's event attracted just 500,000 revellers compared to the 1.5 million who packed Berlin in 1999 though added 'in a city with close to 20 percent unemployment, festivals with the attraction power of the Love Parade provide a welcome boon to hotels, restaurants and clubs.'

Berlin's high unemployment rate was also singled out in Mixmag this week, in an article about British producer Jesse Rose's apparently effortless recent rise to the top of Berlin's clubland tree.

"In dance music it seems, everyone wants to move to Berlin, the world's current capital of underground music," Mixmag declared, "But in Berlin not everyone makes it. Unemployment rates of 20% means unless you've got an angle or a trust fund, you're going to be on the plane home to Blighty (England) in no time".

News : Sven Vath Warms Up The Fondue(26/07/2006)
News : Berlin's Love Parade Is Cancelled Again (02/05/2005)
News : Love Parade Protest(26/06/2004)