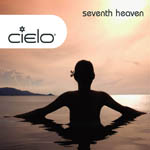 international news _ 23rd February, 2007
A Slice Of Heaven From NYC
Text by Len Iima (HigherFrequency)
With many established clubs being shut down recently in New York City, the scene appears to be in danger of extinction. However, hope comes in the form of club Cielo. Winning lots of awards including 'Best Club' by the Village Voice, and 'Best Resident DJ – Francois K', Cielo looks on track and seems to have a bright future ahead.

To celebrate their continued success, the Cielo crew (like many others) will party down in Miami at the Winter Music Conference. At the same time they will launch their third compilation "Seventh Heaven" mixed by Nicolas Matar and Willie Graff who both claim residency at Cielo.

Cielo's 4th anniversary party will be held at the up scale Raleigh Hotel in Miami Beach on March 22nd with such artists as Behrouz, Blaze, Jojo Flores and others spinning their stuff. It is a guest list only party with limited space so it may be difficult to attend for the masses.

"Cielo Seventh Heaven" will be released March 27th on Kinkysweet Recordings.


News : Good Karma In Miami (21/02/2007)
News : A Defected House In Miami (15/02/2007)
Party Report : Miami Winter Music Conference (03/2006)