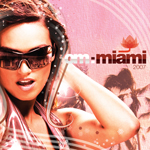 international news _ 21th February, 2007
Good Karma In Miami
Text by Len Iima (HigherFrequency)
Om's Miami series, which debuted last year, continues with "Om: Miami 2007". As many labels and artists (as well as fans) prepare for this year's Winter Music Conference, set to be held from March 20th to the 25th everyone is trying to show off their stuff as early as possible, usually in the form of a compilation or mix.

Like the original "Om: Miami" this CD will feature veteran artists and WMC performers Chuck Love from Minneapolis and Fred Everything from Montreal. In addition to up and comers like DJ Zeph & Azeem and Ladybug Mecca.

Although the entire line-up hasn't been 100% confirmed yet, it's a pretty safe bet that most (if not all) of the crew from Om will be rockin' on til the break of dawn in Miami.

"Om: Miami 2007" will be released on March 5th.


News :Holden, Howells and Hawtin Get Made In Miami(07/02/2007)
Party Report : Miami Winter Music Conference 2006 (03/2006)