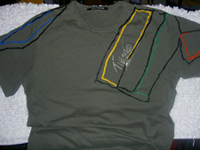 international news _ 3rd August, 2006
Dress Like A DJ
Text by Nick Lawrence (HigherFrequency)
One of Higher Frequency's most loved news topics is back at it again. It is the dance music oriented charity group Involved who we recently reported hooked up with the FIFA spirit to bring you a World Cup themed DJ auction that raised money for UNICEF. Well the World Cup may be over but that doesn't mean Involved are going to stop raising money, they'll just change their theme.

Upcoming auctions involve having your chance to dress like the DJs you admire. Firstly, Tiesto has donated the t-shirt that millions of people saw him wear as he performed his memorable gig at the Athens Olympics. Slightly less tasteful, but no less collectible, is Danny Howell's thrift-store purchase that he can be seen sporting on the cover of "Global Underground Miami #027" and the final piece of clothing that will be on offer is the original stage leather jacket as worn by Mr C in his days with the Shamen, so a chance for all fans of early dance music to grab a piece of acid house history.

While these auctions are yet to begin, all the eager beavers out there can already bid on numerous other items such as copies of "Involver", "Renaissance The Mix Collection Limited Edition" and the limited run "Avalon Los Angeles CD 24/06/06" all signed by Sasha himself.
News : Hernan the Charitable Catches World Cup Fever (29/06/2006)
News : Pete Tong Stuck in the Gutter (17/03/2005)
News : Sasha and His Dad Get Involved (21/12/2005)
Special Report : Miami Winter Music Conference 2006 - Day 5 (27/03/2006)