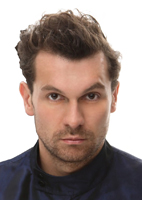 international news _ 23rd April, 2007
Mixmag Man's Mixed Musical Past
Text by Jonty Skrufff (Skrufff.com)
Leading UK dance magazine Mixmag announced this week that Freeform Five synth player/ singer Nick DeCosemo has become their new editor, with current editor Andrew Harrison moving up to the editor-in-chief role.

"The dance music scene is incredibly vibrant at present and Mixmag is at the heart of this buzz, staying true to our core readership and attracting new converts in search of a credible, controversial and comprehensive companion to their clubbing exploits," DeCosemo said in a statement

"We're very excited to bring in an editor of Nick's calibre and vision," Andrew Harrison added. "The high standard and volume of applicants to this position shows that dance music is once again the happening area in popular culture. In Nick we've got the perfect editor to take Mixmag forward to greater success in the future."

Growing up in 'a depressed mining town further north (of Newcastle!) 'in Billy Elliot country', according to his online biog, the workaholic musician/ journalist most recently operated as an associate editor for men's magazine FHM, simultaneously contributing hotel reviews for posh lifestyle portal Mr and Mrs Smith.com.

"Nick DeCosemo has seen more than his fair share of complimentary shower caps and body lotion," the website boasts on their contributor list. "The general rule is that when Nick's on a writing job, the hotels are much better than with a band. With the band there are six of them and he always end up sharing with the sound guy."

How he juggles the new job with Freeform Five's growing success (the band are set to have an imminent massive club hit with remixes of No More Conversations, including a monster by Switch) should have a significant impact on whether Mixmag manages to grow.
News: Mixmag Dummies Down (12/06/2006)
News: New 'Mature' Mixmag To Ditch Dinosaur DJs (17/04/2006)