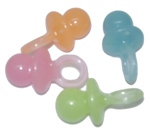 international news _ 12th June, 2006
Mixmag Dummies Down
Text by Jonty Skrufff (Skrufff.com)
Mixmag's managing editor Andrew Harrison appeared on BBC Radio's most prestigious current affairs show the Today programme last week, to tell listeners that dummies (baby pacifiers) are clubland's next big thing.

"It (sucking a dummy) is cool in the way extremely uncool things can become cool," Harrison suggested, "People often choose the most ridiculous thing and make it into a little fetish... This is placing yourself in a humorous position of looking like a big kid," he explained.

The UK style guru said East London's notoriously moody hip hop scene is driving the return of the dummy sucking craze, though online club merchandise website Wellcoolstuff.com said the trend could be wider.

"We've definitely noticed a revival in rave dummies, but we think it might have something to do with the revival of rave culture since the death of superclubs a few years back," Wellcoolstuff's Dan told Skrufff, "Rave toys in general seem to be on the increase in sales terms, but not as much as the dummies," he added.

Judge Jules told Skrufff he's ambivalent about the baby sucking phenomenon explaining 'I haven't really spotted it, yet although I've certainly seen them in abundance in the past."

"My only negative is how highly un-sexy they are," Jules added, "And clubland should always have sexy undertones."

Dan Wellcoolstuff was less judgmental, declaring 'If you want to go out with a rave dummy, then cool, whatever makes you happy is fine by us.

"And if you want to buy your rave dummy from us, that's equally cool," he said.

"Our dummies are the ones massed produced in the late 80's which we got a job lot of and we've been stuck with ever since the dummy craze died out last time."