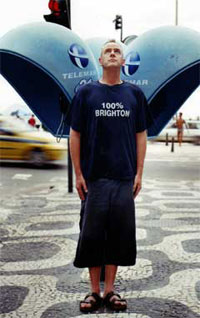 international news_26th September, 2004
Palookaville Premiere
With only weeks to go until the release of the latest album from Norman 'Fatboy' Cook arrangements have been put into place for a typically unique album launch party. On the 2nd of October, the entire album will be played to spectators at the Brighton and Hove Albion vs Sheffield United football game making it possibly the biggest ever pre-release playback of an album. In an added promotional twist that needed special consent from the football league authorities Fatboy Slim's local team Brighton, which is sponsored by Skint Records, Fatboy's label, will also take to the pitch in a special promotional Palookaville football kit for the game.
Normally having the logo of Skint Records on the front of their shirt for this game and upcoming big games against Premier league teams the team will wear a kit with Palookaville on the front and will sport the away navy kit instead of the usual blue and white stripes.
With all sign suggesting that Normans new single, the mighty Slash Dot Dash will storm into the charts this week Fatboy is getting ready for A Palookaville media blitz as well as the start of his October UK Tour.
To watch the new video for his new single check out Fatboy's website
Domestic News "Advance Tickets for Fatboy Slim sold out" (23/08/2004)
Intl News "Fatboy Palookaville" (07/07/2004)
Intl News "Fatboy Slim back in the capital" (04/08/2004)