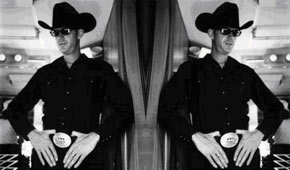 international news_4th August, 2004
Fatboy Slim back in the capital
As the Fatboy Slim media assault limbers up for his upcoming release the man behind the name, Mr. Norman Cook is coming back to the London for a long awaited return to the capital. The 28th of August, a national holiday weekend will see a packed house of broken beat fans crowd into east London venue, Turnmills for a Big Beat Boutique special that features the Fatboy alongside DJ Touche and Chromeo (Live).
A warm up for him before he goes out on a national UK tour to promote his new album, Palookaville, due out on the 4th of October, the Palookaville tour will showcase Fatboy's new album with 8 dates all over England with an international dates coming later this year.
Fatboy fans who can't wait until October will no doubt be able to get a sample of his new tracks if they catch him at one of the many festivals and special events he will be performing at in the next couple of months. After Creamfields, Andalucia in southern Spain next weekend Fatboy heads over to Ibiza for a gig at Manumission and Underwater's weekly Pacha event before heading back to the UK to entertain crowds at the Boutique event in London, one in Brighton and then the Isle of Wight's, 'Bestival' event.
Details of his new album as well as tour dates can be found on Fatboy Slim's recently rejuvenated website along with the chance to listen to his new single before the release next month.
Intl News "Fatboy Palookaville" (2004/07/07)