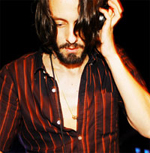 international news _ 31st October, 2006
Black Strobe's Paris Syndrome Shocker
Text by Jonty Skrufff (Skrufff.com)
Japanese tourists shopping in France are becoming so distressed by rude shop assistants that some are developing 'Paris Syndrome', the Guardian reported this week, suffering hallucinations and such severe breakdowns that some need to be repatriated,

"There are around 20 cases a year of the syndrome and it has been happening for several years," Japanese Embassy spokesperson Miyupi Kusama revealed, "When the idea they have of the country meets the reality of what they discover it can provoke a crisis."

The emergence of the bizarre psychological condition is unlikely to strike a pang of conscience in Ivan Smagghe, who last year admitted to being mercilessly mean to customers when he was a shop assistant before he was famous.

"I've always bought a lot of records and I ended up working in a record shop (Rough Trade) to pay for them. That was the mid 90s," the notoriously snappy genius producer said in 2004, "My reputation for being moody as fuck comes from working in the shop on a come down," he confessed.

The Frenchman could soon receive karmic retribution, however with the release of Black Strobe's excellent upcoming remix compilation, judging by the experiences of fellow Parisian producer Bob Sinclar, who told Mixmag this week that he's lost so many of his old friends since becoming a star that he's been forced to socialize with Paris Hilton.

"In France you are not allowed to be successful, to make money," Sinclar complained.

"There is jealousy. Some people who were very close to me have left me. I don't know why. I am a little alone," he said,

Black Strobe's "A Remix Selection", is out in November and includes Sweet Light's 'Abusator'. Depeche Mode's 'Something To Do' and Tiefschwarz's 'Ghost Track' plus one new track 'Shiny Bright Star' .
Release : Black Strobe / A Remix Selection (14/11/2005)
Interview : Ivan Smagghe and Ata Interview in Tokyo (10/06/2005)
Party Report : SECRET SERVICE feat. IVAN SMAGGHE & ATA @ UNIT(10/6/2005)