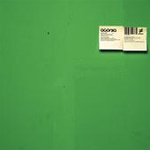 international news _ 3rd October, 2006
Agoria's Criminal Convictions
Text by Jonty Skrufff (Skrufff.com)
French electro-tech star Agoria chatted to Skrufff this week about his upcoming new artist album The Green Armchair and revealed that his long standing commitment to techno comes from being arrested as a young DJ.

"At the beginning of the 90s the French government viewed techno like terrorism, they busted loads of parties and tried to jail DJs and promoters and anybody involved in putting on parties. I was arrested a few times by the police during those days and that's one of the reasons I remain based in Lyon and am still trying to build the scene here, step by step, to make techno as popular as it can be," he explained.

Like everyone else I started playing in small venues and clubs and organising my parties myself with some friends and I was arrested two or three times, though the police never charged me," he recalled.

"Nothing bad ever happened to me, it was actually normal for the cops to arrest a DJ playing at 8 in the morning. To them we were considered dangerous," said Agoria.

"In fact, the police were actually really good with us, they thought we were cool and they only arrested us because they had to do it, because of the Government orders.

That's why I'm nowadays militant about the music and for the electronic scene in general, because of this repression.

"Today I'd say it's completely obscene because the government organises massive free parties in very bad locations with 50,000 people who are all really completely fucked up," he added.

"There's no sense in that- I think society is stupid."

Agoria- The Green Armchair is out shortly on PIAS Recordings.
News : Agoria's Armchair (08/09/2006)
Release : Agoria / The Green Armchair (16/10/2006)