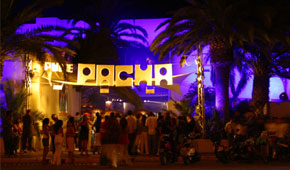 international news_24th October, 2004
Ibiza Arrives in London
Two nights full of Balearic hedonism are planned in November to bring the summertime party vibes to the dreary capital going headlong into winter. The first night due to be held at Pacha London on the 11th November has the Ibiza clubbing establishment (Amnesia, Pacha, Privilege, Space, Eden, El Divino and Es Paradis) joining together to throw a spectacular party.
The idea originated from the Association of Ibiza Nightclubs to coincide with the World Travel Market that's taking place in London at the same time. A group of promoters, venue owners, dancers and performers will fly over for the night on a specially chartered plane from Ibiza to promote the massive contribution clubbing has had on the development of tourism on the island at the event and to launch a new organisation and magazine, Ibiza United.
And of course being from Ibiza they have to have a party to celebrate. Guests DJ's at the night Pacha soiree include Pete Tong, Judge Jules, Carl Cox, Andy B and DJ Oliver.
Funnily enough though the next night an event will take place at Heaven in London to say a fond goodbye to Ibiza institution Bora Bora, closed at the end of this season allegedly as a result of the corruption and influence by the major clubs on the island over the local authorities. As reported earlier this month on HRFQ the bar was closed at the end of this season after police supposedly upheld complaints from local residents about the noise levels coming from the beach side bar. Due to play at the UK leg of the Bora Bora farewell world tour is resident DJ Gee and a host of other casualties of the Ibiza summer including a rare UK appearance from Danny Tenaglia.
Both events will no doubt have a different vibe but by the looks of it both will definitely have great music.
Ibiza 2004 Special Report
Intl "Ibiza Institution Bora Bora Closed Down" (08/10/2004)