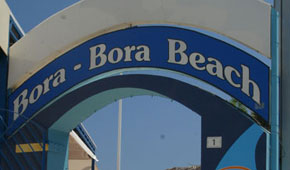 international news_8th October, 2004
Ibiza Institution Bora Bora Closed Down
The future of the beachside bar that served as a refuge to thousands of post Space casualties, the infamous Bora Bora has finally been closed down after weeks of speculation following its temporary closure by police and island officials a few weeks ago.
Ibiza officials cite noise complaints from police and local residents as the official reason for the bars closure despite the fact that the bar has been operating since 1997 and Space, with a much more powerful sound system, is only a few hundred meters away.
It seems difficult to believe that such action would be taken on an island that generates such a large percentage of its income from dance music based tourism. Bar resident DJ Gee had different opinions for the closure and gave his own views on the bars website.
"cI don't want to use this writing to promote those responsible for the islands closures any more than necessary, it's incredible and sad to think that Bora Bora, DC10 terrace, Sa Trinxa, KM5, Kumharas, Benirras, etc could be such a threat to those who feel their superiority being challenged, these are more than parties they are traditions that help bring people on to the island who also feed the clubs, if they are to be the only ones here then the sprit of the island is lostc."
"cit's not like this island just started yesterday, all the surrounding hotels and bars of Bora Bora are owned by the same organization. The apartments around were full of people who stay there because they know what to expect.
It's strange to see all the terraces closed down with no music with the exception of Pacha and the two terraces of Space, one of which includes the new roof terrace that like Pacha terrace also has music playing well after midnight."