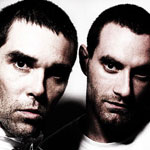 international news_7th November, 2004
New UNKLE Single and Video
UNKLE in the news at the moment on the back of the re-release of their latest 'Never Never Land' album have announced details of the next single off the album. 'Reign', only available on the re-release edition of the album, features the vocal talent of ex Stone Roses singer Ian Brown as well as the bass plucking skills of ex Stone Roses bass player Mani, the first time the pair have recorded together since the legendary group split.
Released across three formats, a Maxi CD and two 12" singles The track has been ripped apart by some of electronica's finest, notably Way out West and Evil 9 and will be released on the 15th November.
On working with Unkle Ian Brown said "It's nothing but a pleasure to work with James Lavelle and Richard File. We've guested on each others shows many times now. Some of my best work has been my collaborations with UNKLE, long may we Reign!"
The video for the new single produced by Australian designer/director Daniel Askill can be seen here (www.gumusic.co.uk/reign)
1ST 12"
A1. WAY OUT WEST REMIX
A2. EVIL 9 REMIX

2ND 12"
A1. ANAGRAM REMIX
B1. FALSE PROPHET REMIX

CD SINGLE
1.RADIO EDIT
2. WAY OUT WEST REMIX
3. MORGAN GEIST REMIX
4. EVIL 9 REMIX
5. UNKLE RECONSTRUCTION
Intl News "UNKLE - Never Never Land Re-Release on Global Underground" (04/10/2004)