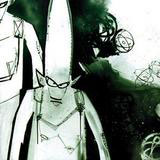 international news_1st October, 2004
UNKLE - Never Never Land Re-Release on Global Underground
UNKLE, the production partnership between James Lavelle and Richard File have announced plans to re-release last years album 'Never Never Land' because the album never had a full international release because of disputes with their label, Island Records. Disputes that couldn't be resolved have forced the pair to leave their old label and are now resident on the massively renowned Global Underground.
James said "I am really pleased that all our hard work on this album will now see the light of day in America and we get the chance to continue what we started over at Island here in the UK... I also feel that GU is the perfect label to work with on this project as it feels more intimate and personal, more like the old Mo-Wax way of working."
The album has been revamped for the second launch with a limited edition boxed set that includes an additional bonus CD that features new UNKLE unreleased tracks plus exclusive remixes including Sasha's version of 'In A State', taken off his recent Involver album, also released on GU.
As an added treat for UNKLE fans the CD will include a new track, 'Reign' featuring both Ian Brown and Mani, the first time the two Stone Roses members have recorded together since the split of the band. The track will also be released as a single, again on global underground and will feature remixes by Morgan Geist, Evil 9, Way Out West, Anagram (Pablo from the Psychonauts) and RJD2.
Ian had this to say about the new single "It's nothing but a pleasure to work with James Lavelle and Richard File. We've guested on each others' shows many times now. Some of my best work has been my collaborations with UNKLE, long may we Reign!"
The UNKLE album will be released on the 25th October while the single, Reign will be in the shops on 8th November.
UNKLE - Never Never Land
Standard CD 1xCD
BACK AND FORTH
EYE FOR AN EYE
IN A STATE
SAFE IN MIND
I NEED SOMETHING STRONGER
WHAT ARE YOU TO ME ?
PANIC ATTACK
INVASION
REIGN
GLOW
INSIDE

Bonus tracks
EYE FOR AN EYE BACKWARDS (JOSHUA HOMME AND ALAIN JOHANNES REMIX)
SAFE IN MIND (Please get this gun from out my face) (CHRIS GOSS REMIX)


Limited Edition 2xCD
Second CD contains


BLACKOUT
TRACIER
PANIC ATTACK (APE SOUNDS REMIX)
REIGN (ANAGRAM REMIX)
IN A STATE (DFA REMIX)
INVASION (MEDWAY VS EVA COAST TO COAST REMIX)
HAVE YOU PASSED THROUGH THIS NIGHT ?
GLOW (HYBRID REMIX)
IN A STATE (SASHA REMIX)


Limited Edition 3xLP
BLACK OUT
TRACIER
PANIC ATTACK (APE SOUNDS REMIX)
EYE FOR AN EYE (JOSH HOMME REMIX)
REIGN (ANT GENNS ACID REMIX)
IN A STATE (DFA REMIX)
HAVE YOU PASSED THROUGH THIS NIGHT
INVASION (MEDWAY VS EVA COAST TO COAST REMIX)
GLOW