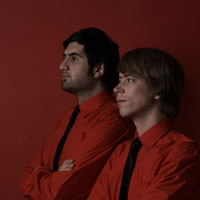 international news _ 25th May, 2007
Digitalism- The Next (Electroclash) Generation
Text by Jonty Skrufff (Skrufff.com)
Jens and Ismail from hotly tipped dance-rock duo Digitalism chatted to Skrufff this week about their upcoming debut album Idealism and revealed they've been more inspired by electroclash than new rave.

"New rave is more about the cultural thing around it than the music, the music is sometimes just normal indie rock that's been in existence for years and combining electronic rock with indie music has been done since electroclash already," Jens pointed out.

"We loved electroclash," Jens continued. "Though at the time we were isolated in our studio bunker. The electroclash thing had a darker more depressing element to the music whereas now it's getting more positive again. We liked electroclash a lot. When Radio 4 and Rapture came out it was awesome," he added.

The Hamburg duo were first picked up by French boutique label Kitsune two years ago, signing to Virgin more recently as their UK profile exploded though remain relatively unknown at home, the pair admitted.

"There's always been some kind of beef (competition) between Hamburg and Berlin and people from Hamburg don't really like people from Berlin and vice versa," said Jens, "We've not really been in Berlin much so far. We like it there though."

The band first attracted mainstream attention with their debut single Zdarlight (which has since gone on to sell over 20,000 vinyl copies) standing out still further with their breakdown monster track Jupiter Room and similarly powerful remixes for the Futureheads 'Close To The Edge' and Daft Punk's Technologic.

"Most of our ideas come from when we remix someone else," Ismael admitted, "We love huge breakdowns; when we look at the wave forms of our tracks sometimes 70% is a breakdown," he laughed.

Jens admitted they're highly ambitious and eager to experience crossover mainstream success, working seven days a week and constantly developing new ideas.

"I see us and Justice and a few other producers as being a new generation," he said.

"The last time was ten years ago when bands like Basement Jaxx, Daft Punk and the Prodigy emerged, they are still there and really, really good but for ten years there hasn't been any young people coming through," he added.
Interview: Digitalism Interview (01/04/2007)
News: The Dawning of Digitalism (22/03/2007)