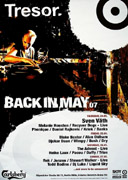 international news _ 25th May, 2007
Jonty Skrufff DJs @ Tresor's Re-Opening
Text by Jonty Skrufff (Skrufff.com)
Jonty Skrufff will be spinning at the new home of Germany's definitive superclub Tresor next weekend, when the legendary club re-opens inside East Berlin's former power station (HKW) on Köpenickerstrasse, Mitte (Central Berlin)

Jonty and Skrufff Berlin DJ Fidelity Kastrow will be spinning dirty rocking electro-tech in the gigantic club's main bar area, while Detroit legends including Blake Baxter, Alan Oldham and Dash will be spinning techno on the club's other dance floors, in lower levels deep inside the cavernous gigantic space.

"I'm excited, delighted and seriously honoured to be playing at the re-opening of Tresor," said Jonty, "The club itself is already deservedly recognized as being incredibly influential for dance culture and, having seen the venue last week, I think it's going to become even more significant in the future. The sheer scale of the space and the fact it's a semi derelict ruin add an atmosphere and energy that's physically spine-tingling, like stepping into a cathedral and I think as a club it has the potential to be truly magical."

The London based journalist/ DJ has played in Dubai, Slovenia and Holland (helping to cover a DJ no show by Felix Da Housecat) in the last month, though is otherwise increasingly splitting his time between the UK and Germany.

"Berlin is dramatically more chilled and calm than London and equally cheaper- I think the exodus of Londoners moving here is only just beginning," he predicted, "Berlin is the new London, London is the new New York and New York is finished."

"And Tresor is the new Tresor," he added, "Come and say 'Hi' if you're there."
News: Tresor Club Back In Action (01/05/2007)