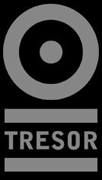 international news _ 1st May, 2007
Tresor Club Back In Action
Text by Len Iima (HigherFrequency)
After a two year break, one of the most influential clubs for the Techno scene will reopen their doors. The original Tresor Club started in 1991 by Dimitri Hegemann and Achim Kohlbergerand and was located in an abandoned bank vault. With it's instant and continued success, it drew the frontrunners of the industry (and still does). The Tresor label was founded just six months after the club and followed in it's successful footsteps.

The list of DJ's that have graced the club with their presence include Ellen Allien, DJ Hell, Chris Liebing, Cristian Vogel, Housemeister, John Acquaviva, Paul Van Dyk, Ritchie Hawtin and so many more.

After the original club was demolished to make way for some new development, the Tresor crew went nomadic, holding parties in various locations. At last they've found a new home at a former power plant. The three floor compound will feature the Batterieraum (as the new Globus), the +4 bar, and the infamous Tresor basement.

Tresor will kick things off on May 24th with special guest Sven Vath. After this grand reopening, it will continue the regular schedule of being open every Wednesday, Friday and Saturday (also for special events).

LINE UP:

24. May
Sven Vath, Melanie Houston, Recyver Dogs Live, Phonique, Daniel Rajkovic, Kriek, Baeks

25. May
Blake Baxter, Alan Oldham, Dash, Dry, Djoker Daan, Wimpy, rama aka Princess Lizard

26. May
The Advent Live PA, Heiko Laux, Pacou, Daffy, Martin Moeller, MGI, Trias, Special Guest

27. May
Rok, Jonzon, Stewart Walker Live PA, Todd Bodine, DJ Luke

30. May - FIRST BONITO HOUSE CLUB!!!
Dole & Kom, DJ SPUD, Dave DK, MasCon, Mike Dehnert Live PA, S.Sic, Subtronic

More artists to be announced.
News: Tresor Power Through Fifteen (22/09/2006)
News: Tresor Reopens the Vault(21/06/2006)
News: Club Tresor Berlin Announces Closure (09/02/2005)