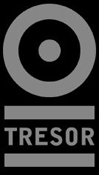 international news _ 22nd September, 2006
Tresor Power Through Fifteen
Text by Nick Lawrence (HigherFrequency)
Just last week seminal Berlin label Tresor celebrated reaching fifteen years of business. The label started back in 1991 and owes much of its success in the early years to releases from artists like Jeff Mills, Robert Hood and Thomas Fehlmann who produced for the label as part of various groups. Throughout its life Tresor has managed to amass an impressive roster of artists with Juan Atkins, Joey Beltram and Cristian Vogel all lending a hand.

Tresor has seen well over 200 releases from its beginning in 1991 and in November of this year will put out its latest piece, "Off The Grid", a schizophrenic collaboration by Octave One feat. Random Noise. The Detroit duo of Lawrence and Lenny Burden re-visit some of their classic tracks for this audiovisual release that includes both a CD and DVD.

As everyone is probably aware the Tresor brand also spreads to include the legendary Berlin nightclub that was forced to close the vault door in 2005. As previously reported the club is set to re-open and now it has been revealed that the former cogeneration power plant in Berlin Mitte will be used for Tresor's new home, although no date has been set for the grand opening.
News : Tresor Reopens The Vault (21/06/2006)