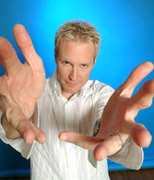 international news _ 24th May, 2007
Christopher Lawrence Backs Out For 2 Months
Text by Jonty Skrufff (Skrufff.com)
American techno-trance star Christopher Lawrence is taking an unprecedented break from DJing, after becoming 'struck with the lurgie', his publicists revealed this week.

"It is with great regret that Christopher has had to cancel ALL DJ DATES until the start of June, which includes his appearance at the Gatecrasher Summer Sound System," his press agents revealed, "This is due to a back injury at the end of his last European tour in April."

The hugely popular star has long been one of the busiest and most professional DJs on the international circuit and chatting to Skrufff last year spoke proudly of his track record.

"To this day, I have never missed a flight and only missed two events in fourteen years due to cancelled flights," he said, "I look at this industry as a business, as well as a passion. Managing your career professionally is very important. I am just grateful to have had a career that has lasted this long and for the loyal fans that have come for the ride."

In the same interview, however, he was less careful with words when asked about the trance word that he remains most closely associated with.

95% of trance makes me sick to my stomach. It is cheesy, obvious and lacking in any sophistication. It's a shame that I am labelled a trance DJ because it means I am associated with that crap," he laughed.

"But I won't abandon trance. Plus, there are signs that things may be turning around. I have heard many DJs that played cheesy anthems or 'supertrance' for years are now playing harder. Maybe trance can be saved. In the mean time, I call my sound "techno trance", he said.

Christopher is set to return to the decks in July, with a high profile headline slot at Judge Julesí Judgement Sunday in Ibiza on July 8.
News: Christopher Lawrence Crashes In Moscow (22/02/2007)