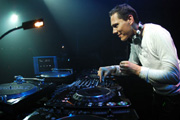 international news _ 18th May, 2007
Tiesto Emulates Oakenfold's Origins
Text by Jonty Skrufff (Skrufff.com)
DJ Tiesto revealed he's to open a restaurant in Amsterdam next month which will be selling Asian fusion dishes and starters such as 'Adagio For Strings' soup.

"I've always been a big fan of food and if I wasn't a DJ now I'd be a chef," the world's most popular DJ said in a statement, "I love cooking".

Coincidentally, his comments matched almost exactly those of former 'world number one DJ' Paul Oakenfold who before DJing trained for four years as a chef, working at London's Army & Navy Club and even taking a one day week course in catering at Westminster Tech.

"I'm a fully qualified chef and I love to cook," Oakenfold told About.com in an interview last year. "I cook for my friends and family and we hang out, I enjoy that process," he said.

In more Tiesto news, the Dutch trance hero revealed he's also keen to start doing Jean Michel Jarre style spectacular concerts at venue such as England's new Wembley stadium and at the Seven Wonders Of the World.

"I'd certainly consider playing at the Pyramids where Jean Michel Jarre performed on New Year's Eve in 1999," he said this week, "I'm often compared to him and I'm always flattered."
News: Tiesto Taunts Too Cool Coke Heads (02/05/2007)
Interview: Tiesto Video Interview (20/03/2006)