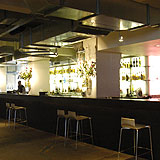 international news _ 15th May, 2007
1 in 3 Hoxton Triangle Clubs Threatened with Closure
Text by Jonty Skrufff (Skrufff.com)
London police have warned over 50 of the 150 bars in Shoreditch that they face closure unless they cut back on opening hours, introduce more drug searches and security, the Standard reported this week.

The story emerged just weeks after T Bar was temporarily closed after undercover cops discovered drugs and months after 333 was similarly shuttered as part of what appears to be a rapidly escalating crackdown on the area's thriving club scene.

"It's difficult for us to speak up but the future of Shoreditch is under threat," 333 owner Vicki Pengilley told the Standard, "Hackney Council seems to want to turn this area into another Notting Hill with shops and cafes and the clubs all closing at midnight," she suggested.

Hackney councillor Alan Laing insisted they're only concerned with safety though influential local political group 'Labour in Haggerston' reveal a less than sympathetic attitude towards clubs in postings on their online blog.

"Just before Christmas we had some good news. A closure notice was served on 333, the nightclub situated at 333 Old Street. This was the first licensed premises in Hackney to be shut under the Anti-Social Behaviour Act 2003," the trio of Labour councillors cheered in one post, "Let's hope this sends out a powerful message to other bar and club owners in the ward - stick by the rules or you'll be hit where it hurts most - your pocket," they added.

Mega-succcessful East London party promoters Secretsundaze also raised the issue in their newletter this week, writing 'quite a few of you are sure to have heard about recent temporary venue closures at the likes of T-Bar and 333'.

"There is a general crack down on nightclub activity in the area and this means increased security presence and tighter searches," Secretsundaze added, "So please take this into consideration and use your common sense," they advised.

Meanwhile in South London, hundreds of clubbers fled from The Coronet after two men were shot inside or close to the Elephant & Castle venue in the early hours of Saturday morning (May 5). South London Press pointed out that the club has metal detectors and a team of 40 security staff, and said cops are investigating exactly where the shootings took place.

"We take these matters very seriously, particularly where there's firearms involved in or near a club," Investigating officer Superintendent Dave Chinchen told the newspaper.

"No decision has been made whether to press for a review by the licensing committee. It's a club where we haven't seen an incident in the last couple of years. This incident is unusual," he added.
News: Party Police Shut Pacha New York (08/05/2007)
News: UK Rave War Skirmishes Continue (12/04/2007)