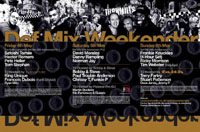 international news _ 11th May, 2007
Def Mix DJs DJ To The Death
Text by Jonty Skrufff (Skrufff.com)
Legendary New York DJ manager Judy Weinstein celebrated 20 years of looking after superstar DJs including Frankie Knuckles, David Morales and Satoshi Tommie this week and revealed that none of her clients are even close to retiring.

"We laugh because a lot of the younger DJs, they were always like: 'When are the old ones gonna retire so we can get a break' back in the 70s and 80s . . . and 90s," she told One Week To Live.

"And the older ones, they're not going anywhere. This is what they do. And until their last breathe, they'll still be doing it, because the real ones- they last forever," she laughed.

Joining the veteran jocks spinning at Def Mix's upcoming birthday celebrations in London is Danny Rampling, who prompted an amused reaction from 80s gender bender pioneer DJ Tasty Tim when he (prematurely?) announced his retirement last year.

"When Danny told me he was retiring, I thought, Already? But you don't look a day over 62," Tasty told Skrufff.

"Retirement is not something I've considered for myself just yet," he added, "Even if I stopped DJing I could always get work in the circus- or the pantomime."
News: Danny Rampling's Eyeliner Ego Trip (17/04/2007)
News: Renaissance's Japanese Master (08/02/2007)