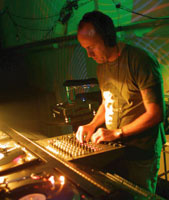 international news _ 17th April, 2007
Danny Rampling's Eyeliner Ego Trip
Text by Jonty Skrufff (Skrufff.com)
Danny Rampling chatted to Skrufff this week about his activities since (semi) retiring from DJing 15 months ago and revealed that he's 'very close' to launching his much anticipated restaurant in London as soon as he finds the right site.

"We've continued to investigate potential sites daily and recently came very close on a site in west Smithfield market unfortunately after four months of negotiations we aborted at much expense and time as the landlords were difficult people," he said. "I will get to the objective in the very near future. It has been a drawn out process that's taken much longer than I expected."

The acid house legend also revealed he's completed and signed to Extravaganza Records a new track with fellow rave pioneer Nicky Holloway featuring comedian Vic Lambrusco (we've been in the studio one day a week for six months) and also attended 'some incredible seminars working on personal development/ business skills'. Danny also took exception to Luke Slater's recent comments that he'd like to see more (male) DJs wearing lipstick and sporting flamboyant images and cited a number of philosophers to defend his position.

"Reading the recent Luke Slater (appropriate surname) article 'Why Do DJs wear Jeans and T Shirts not Eyeliner' which was very amusing, I wanted to send some quotes that may assist with understanding of the ego, such as Meister Eckhart " said Danny.

"How do you label yourself? How do you label others?" he wrote. "Be aware that any label is limiting. Labels stick us in a box where there's no room to move. Today, experience how it feels to let go of the labels to rest in 'I am.' Feel the freedom, the spaciousness, the infinite potential of simply being. As long as I am this or that, I am not all things', "said Danny.

Or Lao Tzu's famous quote that 'Labels limit us', "When I let go of what I am, I become what I might be."

"I really recommend Skrufff readers subscribe to Higher Awareness at a site called TheDailyGuru.com," Danny added, "It's packed with snippets of genuine wisdom and daily inspirational messages."
News: Luke Slater Lashes Jeans & T Shirt DJs (05/04/2007)