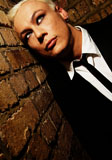 international news _ 5th April, 2007
Luke Slater Lashes Jeans & T Shirt DJs
Text by Jonty Skrufff (Skrufff.com)
British techno type Luke Slater defended his decision to wear lipstick and eye shadow on his recent press shots for his Fabric compilation this week, telling Ibiza Voice his mates were fully supportive of his efforts.

"They can handle it because they know I'm a bit weird like that. And why shouldn't a man wear lipstick, anyway? What's wrong with that? I think there should be more lipstick in the world," he said.

The newly flamboyant performer said he's keen to bring more art and fashion into dance music and poked fun at his less image conscious peers.

"There's always this thing about underground techno, that the people who make it shouldn't be seen, it should be very underground ­ it should all be very jeans and T-shirts," he complained.

"I've never really been into that. Right from the start, I really wanted to glamorize things."

His views are unlikely to impress British progressive house veteran John Digweed, who chatting to Skrufff several months ago show no signs of developing an imminent lipstick habit.

"If you've seen my haircut I'm sure you'll know that my image isn't very important to me," John told Skrufff.

"I haven't got to dress head to toe in Prada, I'm more comfortable in T shirt and jeans. I don't feel the need to be a style icon or anything like that. When you're in a hot sweaty smoky club you want to be relaxed rather than dolled up to the nines, feeling uncomfortable," he said.

However, breaks don Hyper (aka Guy Hatfield) pointed out that dressing down has it downsides when touring, with US officials more sensitive since 911.

"They single you out particularly if youčre flying business class wearing jeans and T-shirt, rather than a smart suit like the rest," Guy told Skrufff last year.

"They just don't take you seriously, and I do tend to be dragged out more often than not, to be honest."
News: Luke Slater Shows Fabric Heaven (30/11/2006)