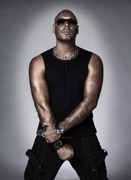 international news _ 1st May, 2007
Roger Sanchez's Battle Of The Sexes
Text by Jonty Skrufff (Skrufff.com)
Roger Sanchez is releasing his recent album track Lost as a single next month, in which the US house star adopts a Barry White style delivery to tell a tale of waking up too late, losing his job then being caught dirty dancing by his lover when she turns up unexpectedly when he's was 'kickin it with my boys'.

The track is 'a very true and funny look on man vs. women relationships according to the S-Man', the accompanying press release explains, and 'a day in the everyday life of any man' (Roger's website),shedding an illuminating light on the lifestyle of one of dance culture's biggest stars.

"I'm dancing with this sexy-ass honey, And in walks my girlfriend. She takes one look at the situation, comes directly up to me and proceeds to trip, aw man," he complains with an exasperated sigh, "Here we go again."

"Why is it that every time you get into a little disagreement with your girl about what just happened she has to bring up 25 things that happened two years ago," he continues, "And add it up into one big problem that u didn't even know existed…Oh!".

Chatting to Skrufff recently, Roger insisted the tale was apocryphal rather than fact explaining "It's about funny things in life that happen, some things to me, some to other people though I've written it in a first person narrative."

"I must say I'm quite surprised that that is the track lots of people are vibing for," he added, "When it's the last track that I would have expected to hook people in."

Lost/ Again is out on Stealth Records shortly.
News: New York House Stars' Gang Banger Roots (11/09/2006)