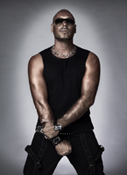 international news _ 11th September, 2006
New York House Stars' Gang Banger Roots
Text by Jonty Skrufff (Skrufff.com)
Sandy Rivera and Roger Sanchez chatted to Skrufff this week about their childhoods growing up in the ghettoes of New York and both revealed they'd been immersed in the City's notoriously violent gang culture of the early 80s.

Kings Of Tomorrow star Sandy Rivera admitted he served time in jail as a youth, after getting caught up in the street life of his Spanish Harlem neighbourhood.

"I was a really bad kid but you don't know any better when you're that young and I got put away when I was 13 for three years in a juvenile facility," said Sandy, "I'd started out doing graffiti then I just happened to get caught with a gun in the school," he confessed.

"You never know what's going to happen to you in life, whether you make a right or left turn, you choose one way and you never know where the other path might have led. But I was pretty bad, and if it wasn't for me getting locked away then I probably wouldn't have changed," he mused.

Roger Sanchez, who grew up in the notorious Queens housing project Lefrak City, also started out as a graffiti writer though admitted he was luckier than Sandy in never getting seriously caught.

"I was fortunate not to have gone to jail, at least not for any length of time. I got locked up once for writing graffiti and was charged with juvenile delinquency but I was never a stick-up kid," Roger told Skrufff.

"Living in New York then it was difficult to avoid gang culture, there were gang wars in my area around Queens and at one point I was hanging out with the cats from Zulu Nation," he recalled.

"I've been held up myself and had to fight quite a lot when I was growing up, it was a fact of life but the gang thing then was just one of those situations you grew up with, survived and became stronger," said Roger.

Fellow US house star David Morales was shot as a youth when growing up in New York while Todd Terry told Skrufff recently that his entire focus as a teenager living in Brooklyn was his gang and controlling their turf.

"The attitude was, it's my block, and nobody better come up into my block or they are going to be shot'. That was the mentality when we were growing up," Todd recalled,

"This was our dream: we were going to deal drugs, we were going to gang bang only on our block, we were going to run that block and the whole world was going to know about our block and not mess with us," he said.

Roger Sanchez releases his new artist album "Come With Me" this week, on Stealth Records; Sandy Rivera's new mix CD for Renaissance- "the Masters Series Part 8"; is also out now.
Release : Sandy Rivera / The Masters Series Part 8 (04/09/2006)