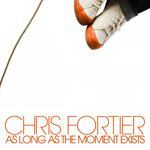 international news _ 30th March, 2007
As Long As Fortier Exists
Text by Len Iima (HigherFrequency)
Underground sensation Chris Fortier is ready to bust on the scene with his very first solo album. Perhaps most well known for his trance production unit with Neil Kolo under the name Fade, Chris has over 40 of his own original productions as well as tons of remixes. He was also responsible for a Bedrock Records compilation and more recently "Balance 007".

His debut artist album titled "As Long As The Moment Exists" shows Chris' genre bridging taste with a blend of underground Techno, various types of House, Electro and even some chilled out grooves perfect for the upcoming Summer season.

Along with this momentous release, Chris is planning a global tour. The cities and dates have not been confirmed as of yet, however this globe trotter is sure to be in your area.

"As Long As The Moment Exists" will be released on June 5th off EQ Records. The Tracklisting has not been announced at the time of writing but will be posted as soon as it's released.


News : Killer Bees Spare Miami 2006 (04/04/2006)
Interview : Chris Fortier Interview at WMC (03/2005)