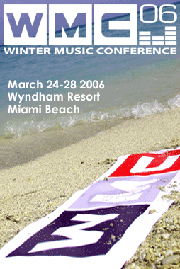 international news _ 4th April, 2006
Killer Bees Spare Miami 2006
Text by Jonty Skrufff (Skrufff.com)
Florida's killer bees conspicuously avoided attacking this year's Winter Music Conference, sparing delegates including Chris Fortier, Danny Howells and Princess Superstar though jellyfish victim Dave Piccioni was less fortunate.

The Azuli man, who became seriously ill after being stung by jellyfish in Ibiza last summer, wisely avoided swimming in the Atlantic though told Skrufff he'd been alarmed by dangerous creatures in his swimming pool.

"I got stung plenty of times as well," said Dave, "$30 for Space and $25 for Crobar."

The eagle eyed trend-spotter also said he noticed worryingly large numbers of delegates wearing conference pass laminates in clubs, and similar size related issues throughout Miami.

"I noticed that breasts are getting bigger," he revealed, "and the guys are having pec implants."

Florida native Chris Fortier also didn't spot any bees ('just boo-bees', he quipped) and also avoided going in the water.

"I never actually got close to the ocean," the one time surfer admitted, "and saw nothing really out of the ordinary generally, just porn stars mixing with music stars and everything in between. I didn't see any laminates either," he added, "but my eyes were crossed for most days."

Danny Howells told Skrufff he spent the bulk of the conference laid up in bed feeling ill though said when he did venture out he made a big effort.

"I went for the 70s look, complete with an original Tavares T-shirt that pretty much eclipsed everything else I saw this year," Danny boasted, "I also spotted Lee Burridge sporting a rather healthy head of hair at the 80s party too. I had a great time there although there was a huge commotion when somebody dropped Bon Jovi; not me I hasten to add'," he said.

Princess Superstar, however, was uncharacteristically subdued, telling Skrufff, 'Arrggghhhh'.

"Miami was so crap this year I barely have anything funny to add," she added.
News: Killer Bee Terror Threatens Miami Winter Conference (06/02/06)