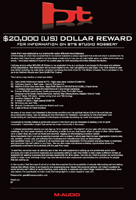 international news _ 22th March, 2007
BT Begs Thieves-Phone Home
Text by Jonty Skrufff (Skrufff.com)
Brian BT Transeau was robbed of almost all his studio equipment last week, prompting the progressive trance pioneer to issue an unusual appeal on his myspace blog.

"I will pay anyone either US$20,000 or my equivalent time as a producer in exchange for the name and address of the perpetrators," BT promised.

"This information will be more helpful to me than just getting my gear back. Over 150,000 dollars of gear was stolen including my entire show for the Binary Universe."

In a lengthy statement, BT spoke of his interest in the 'human condition and the spiritual nature of all of the work that we as a community create', and swore vengeance is not on his agenda.

"I am not asking for this information for retaliation," he stressed, "I am asking for this information and implementing an unorthodox approach in the hopes of actually recovering my music."

The incident came six years after BT offered a "huge reward and no questions asked" when thieves broke into his LA studio while he was in London. The robbers got away with $100,000 dollars worth of synthesizers and hard drives containing un-backed up copies of much of his then 4th album, including collaborations with Peter Gabriel and Way Out West.

More recently, he appeared bitter when he made 82 in DJ Magazine's top 100 in 2005, ranting against Oakey ("Please God, let Paul Oakenfold get old and fat and DJ sitting down") and rival DJs for taking up Ableton.

"I have had the piss taken out of me for four years for using a laptop," BT complained, "And now I have the honour of my superstar DJ friends calling me for tech support- constantly. This interview sucks my balls," he raved.

BT's new album Emotional Technology is out soon.


News : BT Goes All Daft(10/08/2006)
Party Report : DIESEL-U-MUSIC AWARDS 2005 feat. TIM DELUXE, BT & ADAM FREELAND @ ageHa@studio coast(15/07/2005)