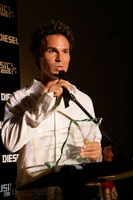 international news _ 10th August, 2006
BT Goes All Daft
Text by Nick Lawrence (HigherFrequency)
BT, the man who pretty much single handedly bank rolled Perfecto during the 90's with his long list of releases, has decided to take a leaf out of Daft Punks book. Come August 29 the artist also known as Brian Transeau will be releasing a hybrid album animated film.

The seven track project entitled "This Binary Universe" comes along on both CD and DVD and merges the 5.1 surround sound original material, produced by BT, with closely related short animated films.

This isn't BT's first foray into the world of film by any means. While he may be well known for his trance records that have seen releases from Renaissance, Black Hole and Ministry of Sound, Transeau has composed soundtracks for films such as "The Fast And The Furious".

When not in the studio recording scores or pressing vinyl BT has also been known to earn a little bread on the side by producing for the biggest names in pop with both Britney Spears and NSync having something to thank this multi talented artist for.
Party Report : DIESEL-U-MUSIC AWARDS 2005 feat. TIM DELUXE, BT & ADAM FREELAND @ ageHa@studio coast (15/07/2005)