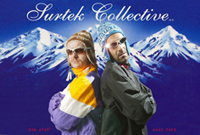 international news _ 20th March, 2007
The Birth of Aciton
Text by Len Iima (HigherFrequency)
From the collaborative effort between Senor Coconut (aka Atom Heart/ Uwe Schmidt) and Original Hamster (aka Vicente Sanfuentes) comes the newest genre to the industry 'Aciton'. According to the creators this sound is a blend of Acid with Reggaeton. Although it may sound a lot like Dancehall, there is a unique quality to the tracks.

The idea for this mash-up came when they were in downtown Tokyo and noticed the extreme sounds around them. With a bit of studio magic, their first Surtek Collective album was born. It's off the same label as Senor Coconut's last album "Yellow Fever" which is Third Ear Recordings.

"Surtek Collective – The Birth of Aciton" will be released on April 11th.

Tracklisting
01. Surtek Collective (Prologue) feat. Funky-C
02. El Tebeo feat. Peter Rap
03. El Pum y el Pam
04. Esta hervida feat. Jorge Gonzalez
05. La vecina feat. Peter Rap
06. El Cumbiaton
07. Surtek Collective feat. Funky-C
08. El Inteliton
09. Raggabuffer override feat. Boomer
10. Apache
11. Sex-O-Tronik
12. Goza el Aciton
13. San Juan Atkins
14. Track-a-t
15. Surtek Collective (Epilogue) feat. Funky-C
16. El Cumbiaton feat. Hibikilla, Afra & Kei (Incredible Beatbox Band) and Diva Gray[Bonus Track]
17. La vieja Julia feat. Jorge González [Bonus Track]

News : Tokyo Gets A Taste Of Spain (21/07/2006)