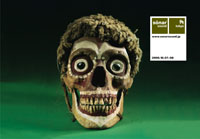 international news _ 21st July, 2006
Tokyo Gets A Taste Of Spain
Text by Nick Lawrence (HigherFrequency)
As all remnants of last monthís Sonar festival are swept away by hot summer winds, the lineup for Japanís Sonarsound Tokyo 2006 has been announced. While there might not be a list of artists as long as its Barcelonan brother, which included performances by Richie Hawtin vs Ricardo Villalobs, Sasha, Miss Kittin, Dave Clarke, Jeff Mills and Kenny Dope, there will be a few names that should draw fans to the upper-class Ebisu location.
Two acts headlining the event, who were also present at the Spanish event, will be the amazing vocal talents of Afra & Incredible Beatbox Band as well as Long Island based hip hop pioneers De La Soul. Senor Coconut is another main act who was part of the June festival and if you havenít heard him perform with his orchestra before then maybe you should check out his recently released album of YMO classics infused with a spicy Latin vibe.
Sonarsound Tokyo 2006 will be held on the 7th and 8th of October at the Ebisu Garden Hall & Garden Room with the entrance price still to be confirmed.
Lineup:
Afra & Incredible Beatbox Band, De La Soul, Doravideo, Eliot Lipp, Go Home Productions, Golden Pink Arrow, Aco +Taeji Sawai(a.k.a. portable [k]ommunity) +Tanaka-Kun(Dr), Nobukazu Takemura, Optrum, Senor Coconut and His Orchestra, Softpad, Tucker?[special guests] and more!